September 9, 1999
Start-Up Helps Web Surfers
Build Personal Radio Stations
By WILLIAM M. BULKELEY
Staff Reporter of THE WALL STREET JOURNAL

CAMBRIDGE, Mass. -- Reed Sturtevant believes that inside many radio listeners is a secret desire to have their own station. His Internet start-up could help them fulfill this dream.
Mr. Sturtevant is chief technology officer and self-described "main instigator" of Radioactive Media Partners, which plans to put "Play Music" buttons on the home pages of numerous Web portals. Its service, expected to go live this fall, will let visitors select one of 15 ready-made stations that Radioactive programs, or build their own channels with a mix of music and artists they could share with friends. If the user wants, he or she can program in some comedy cuts to boot.
"Just like people build home pages, they could have their personal radio stations," he said. Radioactive would take care of details like paying royalties to artists and record companies and making sure the music streams comply with digital copyright laws. For example, in any three-hour period, digital broadcasts can't contain more than four songs by the same artist or more than two consecutive songs from the same CD.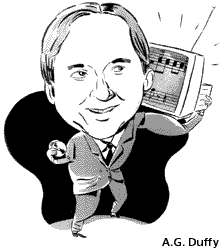 Reed Sturtevant
Interest in radio on the Internet exploded this year, with Yahoo! Inc. acquiring Broadcast.com for $5.7 billion in stock in April and America Online Inc. buying Spinner.com for nearly $400 million in May. Radioactive wants to be the radio station for portals that haven't created, or bought, their own music products. Sung Park, Radioactive's chief executive, said free music at portals will become as ubiquitous as free e-mail and calendars.
Radioactive "has found the sweet spot in the online-music scene," said Larry Weber, chairman of Weber Group Inc., a Cambridge public-relations firm who has seen the product. Weber Group isn't representing Radioactive.
While the audience for Internet radio is tiny, its fans tend to stay connected for 90 minutes or so at a time, an eon by Internet standards. While doing work on their computers, they usually minimize the radio window on their PC screen -- meaning they don't see the radio site's banner ads -- but when a song comes on that they like, they may blow the window up to learn the name of the artist or song and maybe order the disk. That makes radio listeners appealing to Internet sites, which typically make money by running ads.
Radioactive will share ad revenue with portals, and also plans to get a cut of sales of CDs. Mr. Park said it has received interest -- although it has yet to cut any deals -- from several major portals.
Mr. Sturtevant is a 42-year-old software industry veteran who sold his first company to Lotus Development Corp. in 1986, and helped Lotus develop its Freelance Graphics product. After International Business Machines Corp. bought Lotus, he left and started RadNet Inc., a Cambridge company that tried to compete with Lotus Notes in Internet-based collaboration software but found that difficult and switched to software for Web portals. Mr. Sturtevant recalls noticing that "the computer has replaced the stereo in a lot of kids' bedrooms," leading him to explore the possibilities of music on the Internet.
He discussed the topic with Langley Steinert, a 35-year-old former marketing chief for the Freelance product. Mr. Steinert had recently left ViaWeb, an e-commerce software company he helped found, after it was sold to Yahoo. Mr. Steinert mentioned their interest to Mr. Park, an entrepreneur who was investing in early stage companies with proceeds from the sale of his software company to Levi Strauss & Co.
It happened that a friend of Mr. Park's had been dating a telecommunications engineer who for two years had been working on an Internet jukebox. Earlier this year, Mr. Park suggested that Mr. Sturtevant talk with him.
Mr. Sturtevant didn't think much of the jukebox idea, but he saw a way to use the software behind it in a personalized radio station. Mr. Steinert and Mr. Park were so enthused they joined Mr. Sturtevant in forming Radioactive this spring and hired a team of engineers, including the one who created the jukebox. Radioactive is largely self-financed, although OneLiberty Ventures, a Boston venture-capital fund, is backing them.
Radioactive plans to store its library on servers at several Internet data centers. So far it has encoded some 100,000 songs and it plans on 250,000 cuts eventually, compared to the 175,000 Spinner offers.
In a demo, Radioactive's program lets a visitor click on a couple of styles of music, say blues and rock, and a couple of favored artists, Bruce Springsteen and Bob Dylan, to develop a personalized channel. Under this scenario, the station would broadcast an average of one Dylan and Springsteen song per hour, plus a collection of 1960s and 1970s artists.
By adding a ZIP code, the user can get a local weather report inserted -- designed for those stuck in cubicles far from windows -- and Radioactive is negotiating with traffic reporting services to add those, just like real radio. Users can even record brief messages -- "You're listening to the mellow sounds of Bob's Big Band Boogie hour," -- to be inserted in the broadcast. Then they can send the station location to friends.
Mr. Park thinks people will be eager to listen to the music broadcasts formatted by their acquaintances as well as show off their own tastes. "We're the GeoCities of Internet radio," he says, comparing Radioactive to the popular community building site bought by Yahoo last year.
The service isn't exactly like owning a radio station. It won't let users choose what cuts to play at any time. They can't sell advertising. But the cost to users is zero. And they won't have to deal with the Federal Communications Commission.
---
URL for this Article:
http://interactive.wsj.com/archive/retrieve.cgi?id=SB936825744451593540.djm

---
Copyright © 1999 Dow Jones & Company, Inc. All Rights Reserved.
Printing, distribution, and use of this material is governed by your Subscription Agreement and copyright laws.
For information about subscribing, go to http://wsj.com